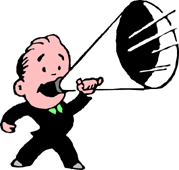 CrimeshareTV plans to broadcast from Maidstone Television Studios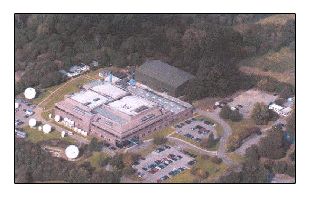 Kent
Triple A Multimedia Group of Companies continues to offer vocational education and training, in the arts and new media, in support of its' voluntary community arm CSTV, to fight crime through the student driven global initiative.
CrimeshareTV belongs to all of us to help create a Crimeshare Culture. We HAVE to take responsibility in the fight against crime. We're looking for volunteers to run Crimeshare websites where you live. CrimeshareTV is the student run community arm of the Triple A Multimedia Arts Academy. It is independent, open and dedicated to rooting out corruption WHEREVER we find it.


Ordinary people, fighting for their families, communities and peace of mind. Crime affects everyone. Big or small, rich or poor, black or white. By sharing what we know and what we think, we'll send out a strong signal to the decision makers. So get stuck in. Use the forums, send in your opinions, share your info. We WILL post it up.
Remember: If you're not part of the solution, you're part of the problem…
Lets all work towards a Crimeshare Culture.
"We have given you the powers. We have given you the resources. Now tell me what you are going to do about it"
Tony Blair.
Lorraine Kelly, a mother from Liverpool's 18 year old son Jamie, was stabbed to death on the 14th September 2009 and his killers remain free. Can you help Liverpool Police track them down.
Read Lorraine's story
MOST WANTED (December 2015)
Elvis Andrews


Elvis Andrews

This is Elvis Andrews. Although he also calls himself Elvis Rutherford, Ian Rutherford, Edin Andrews or just Aaron.

He's 56 and failed to turn up at court where he was due to stand trial for a number of child sexual assault charges.

He walks with a limp and often has a border collie dog with him.

If you're in Northern Ireland, Nottinghamshire, Surrey, Kent or London, keep an eye out for him as he has links to all these places.

If you have any information, call the incident room on 0115 9670999.

Yanick Baptista


Yanick Baptista

Hampshire Police want to speak to Yanick Baptista, although he also uses many other names.

He was due in court on drug dealing and money laundering charges, but has gone missing.

Baptista is 25 and has links across Hampshire and also to Manchester.

He's described as dangerous, so don't approach him. Just dial 999 if you know where he is.

If you have any information, call the incident room on 02380 478366.

Mansori Ganom


Mansori Ganom

This is Mansori Tlah Ganom but he also uses other names.

Detectives want to question him in connection with the rape of a woman in Reading in June this year, and also for immigration offences.

The 37 year old is originally from Iraq and has links to London.

If you have any information call the incident room on 01189 536273.

Joseph Richardson-Eaton


Joseph Richardson-Eaton

This is 29-year-old Joseph Richardson-Eaton, or Paul Jenkins as he sometimes calls himself.

He failed to turn up to Preston Crown court in connection with an attack on a man, which resulted in the victim losing the sight in one eye.

He has friends and family in Lancaster, Bolton and Greater Manchester.

If you have any information, call the incident room on 01772 614444.

Patrick O'Brien


The 25 year old was jailed for six years and nine months in May 2011 after an elderly woman was knocked to the floor and robbed on her front doorstep.

He was released from jail on licence but has failed to stick to his conditions and is now wanted back in prison.

He has links to London especially around Paddington and the West End.

If you have any information call the incident room on 07880941751.

Paul Price


Paul Price

Gwent Police are looking for Paul Michael Price, although you may know him as John McCarthy, Steven Pragnell, Darren Price or Lee Price.

Detectives want to question him after £20,000 worth of biscuits were stolen from a factory in South Wales.

The 38 year old has a Liverpool accent with tattoos of the names 'Jordan Rae' and 'Jodie Lea' on his right arm.

He is also described as dangerous, so don't approach him.

If you have any information call the incident room on 01633 838111.

Alan Simpson


Alan Simpson

This blurry image is Alan Christopher Simpson.

Simpson was jailed for just over three years for burglary offences and released on licence, but he hasn't stuck to his conditions and is now wanted back in prison.

He has a large nose and a one inch scar above his lip. Simpson has links to the Wirral, Liverpool, and across Scotland.

If you have any information call the incident room on 0151 777 8619.
CRIMESHARE KIDS HELP FIND MADELEINE.
Commander Crimeshare has been in Praia da Luz investigating 4 year old Madeleine McCann's disappearance for GMTV.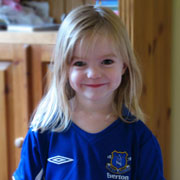 You can see the Commander Crimeshare's interview on the sky news website
Kids don't know who to trust these days but Crimeshare Kids all over the world certainly trust Commander Crimeshare and would like him to explore his theory to find Madeleine. CrimeshareTV is operated by kids for kids and from their point of view they need to feel safe even on holiday. CSTV Co-founder Terry Armstrong reports the website has been inundated with offers of help from kids from all around the world. The general feeling CSTV gets from the kids is 'enough is enough' and Terry says kids are not political and they have no hidden agenda but to protect each other from paedophiles and the growing crime of child abduction. Its obvious to him that Crimeshare Kids from every nationality will put all their energy into finding little Madeleine, and their energy knows no bounds!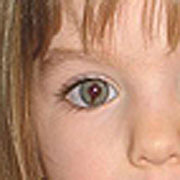 Madeleine has a very distinctive right eye which even if her hair is coloured and her clothes changed will remain a positive means of identification.
VISIT THE FIND MADELEINE WEBSITE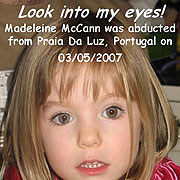 If you have any information no matter how insignificant you think it is you can contact Commander Crimeshare direct on commander@crimesharetv.com or tell the Portuguese Police direct on 00 351 282 405 400 or visit their website madeleine.htm

FOR THE LATEST ON THIS STORY GOTO: -->
CRIMESHARE KIDS - Video to help find Madeleine
Inspired by Commander Crimeshare and supported by Tesco's, HMV, McDonalds and Phones 4 u, a group of kids from Kent spent their half term break making an outspoken, controversial but very entertaining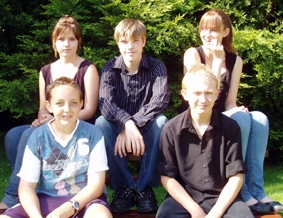 short film in 9 European languages to help find little Madeleine and support her parents Kate and Gerry's tour of Europe and keep the search for Madeleine alive.
Click the gang's photo to see the movie. →→→
The media has praised the film makers for creating an attention grabbing video, highlighting not only the plight of little Madeleine but also the hundreds of other missing kids. Crimeshare Kids don't think the Home Secretary's new laws go far enough to protect kids from sex offenders, the producer, 16 year old Daniel and the CSTV gang have been invited to appear on TV chat shows to tell the world what they think the government should do about paedophiles and child abductors.
Read the piece in this weeks Kent Messenger.
Visit the Home Office website for John Reids latest offerings.
ARE THE CHILD PROTECTION LAWS WORKING?
Following the recent announcement of the outgoing Home Secretary, John Reid's, package of child protection measures the BBC programme 'Britons most wanted Paedophiles' Looked at controversial police plans to flush out 5 convicted paedophiles on the run from the authorities. The BBC traced what happened to them and find their victims to examine whether this new initiative could set a precedent for naming and shaming.
CRIMESHARE COMMUNITY CULTURE
Crimeshare Kids in partnership with major High Street Brands are soon to announce the launch of 'Community Crimeshare Culture' throughout the UK using technology to protect children.
Abuse agency rescues 76 children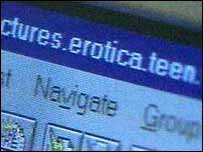 A total of 76 children have been rescued from abusive environments over the past year through the work of a new child protection agency.
The Child Exploitation and Online Protection Centre (CEOP) - launched last year - saved 10 children directly, with no help from other agencies.
It also smashed three paedophile rings involving as many as 800 people.
Home Office Minister Vernon Coaker said the government was "pleased" with the CEOP's success.
The achievements of the agency were revealed in its first annual report, published on Monday.

Hit the link to read the whole story at
Also take a minute to visit CEOP's website