JUST GOES TO SHOW
EVERYONE MAKES MISTAKES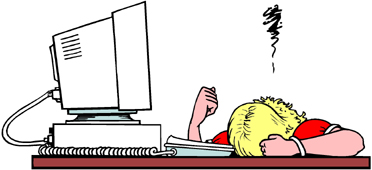 Did you know that the government actually have a sub committee specifically to deal with Government gaffs?
Well of course, CrimeshareTV had to investigate. Now we've found a few, but now it really is over to you. If you uncover a government gaff, send it in and we'll post it up!
Also on this page:
Ministers behaving badly? You decide.
Dumb Laws – Believe it or not, these laws from both the UK and the US still apply.
Definition of the word POLITICS
POLI = From the latin for MANY
TICS = BLOOD SUCKING CREATURES
HOME OFFICE GUN CRIME COCK UP
n 2000 the government promised action against the growing gun culture on the streets. In 2002 the Home Office scrapped the Ballistics Gun Crime Database. Following the recent deaths of teenagers shoot in gangland turf wars the Home Office announced the introduction of a Ballistics Gun Crime Database in April 2008. We have to wait fourteen months for a replacement database to be put in place before we can gain the benefit of its use, such incompetence prevents the police from doing their job, had the previous database not been dropped to cut costs young lives may have been saved through the intelligence provided in tracking the use of illegal guns since 2000.
Watch BBC Newsnights interview

The scandal that blew up over a glass of champagne
By Sam Coates for Timesonline
Des Smith, arrested over comments to a reporter, is the first person to be held over 'cash for honours'
FOR 21 years Des Smith has been at the helm of one of London's most difficult schools, transforming it from a "depressed and violent" institution into a well-regarded establishment praised by local and national politicians.
The veteran head teacher's experience of raising education standards in difficult circumstances made him an attractive choice to No 10 as someone who could help to drum up support for the Government's cherished city academies.
It appears, however, that he may have taken his brief too far. In January Mr Smith, 60, the head teacher of All Saints Catholic School and Technology College in Dagenham, who is three months from retirement, made incautious remarks to an undercover reporter. He suggested that donors to Tony Blair's policy could expect honours, including peerages, in return for their money.
Yesterday, soon after 8.30am, Mr Smith was led out of his semi-detached house in Wanstead by plain clothes policemen. He was taken in an unmarked car to a London police station, the first person to be questioned by police in the cash-for-honours investigation. He was released on bail ten hours later.
The implications of his arrest stretch far beyond the gates of his 1,100-pupil school, where council officials say he will remain in charge for the time being. Police questioned him about the remarks he made in the Fishmarket restaurant in a Liverpool Street hotel. It was here, after several glasses of champagne, that he spoke to "Claire", an undercover Sunday Times reporter who claimed that she worked for a potential city academy donor.
The meeting was the culmination of nearly two months' work. Mr Smith, an adviser to the Specialist Schools and Academies Trust, which raises money for the schools project, had been trying to woo the "wealthy financial entrepreneur", known as "Andrew", whom "Claire" said she represented.
Mr Smith had been deputed by Sir Cyril Taylor, the head of the trust, to carry out negotiations. Mr Smith would make a good "project director", he told the reporter, because he was "a professional who knows all the buzzwords [and who] can deal with officials". This crunch meeting took place on January 13, at the Great Eastern Hotel. Mr Smith is alleged to have outlined an unofficial tariff for people willing to give money to the scheme. "The Prime Minister's office would recommend someone like [Andrew] for an OBE, a CBE or a knighthood . . . They call them 'services to education'."
Mr Smith seemed even more confident of a reward if the donor were willing to give as much as £10 million. "You could go to the Lords and get a lord . . . become a lord," he said.
Asked what the chances of a peerage were if her boss invested in five city academies over a ten-year period, Mr Smith replied: "A certainty."
When the remarks were published two days later, there was a huge furore, with David Willetts, the Shadow Education Secretary, saying that the honours system should not be used to buy support for government policies.
Sir Cyril called Mr Smith's claim outrageous, and he was sacked from his position as adviser to the trust. Mr Smith apologised but did not deny what he was reported to have said. "I have been shattered by this experience. I was naive. I shouldn't have said what I did. I am desperately sorry," he told journalists.
Downing Street said that it was nonsense to suggest that honours were awarded for giving money to an academy, and waited for the story to die down.
There was one small crumb of comfort for them, however: Sir Cyril did not fall into the same trap as Mr Smith.
He also met the undercover reporter in midDecember at L'Oranger, a small restaurant in Pall Mall, where, over a bottle of Pouilly Fumé, Sir Cyril said that he had been decorated not once but twice for his services. Unlike Mr Smith, however, he firmly denied that donors to the scheme would be decorated.
Last night local figures rallied around Mr Smith. Jon Cruddas, the Dagenham MP, who described himself as a close friend of Mr Smith, said that he had been an outstanding public servant. He added: "I have worked very closely with him as the local MP and he has made an outstanding impression as a public servant over the past 20 years. He has been brilliant."
The source of all political loans bigger than £5,000 should be publicly declared within three months of the money changing hands, the Electoral Commission said yesterday. During an election period, the benefactor's details should be published weekly, the advisory body said.
Cash from foreign lenders should be rejected, it added in a new draft code hastily drawn up after the secret loans scandal. The code will be voluntary for now but is expected to be incorporated into the Government's Electoral Administration Bill to bring the rules for loans in line with those for donations.
LOANS BY NUMBERS
£14m amount Labour revealed last month that it had received in loans before the last general election from 12 wealthy benefactors
£21m amount the Conservatives admitted receiving in loans before the last election
£400,000 amount the Liberal Democrats received, but all were declared to the Electoral Commission
Revealed: Cash for honours scandal
By the Insight team for Timesonline
PRIVATE donors to Tony Blair's controversial city academies can obtain honours and peerages by sponsoring the schools, a senior adviser to the programme has revealed.
Des Smith, a council member of the trust that helps recruit sponsors for academies, disclosed that if a donor gave sufficient money, he could be nominated for an OBE, CBE or even a knighthood.
He described what appeared to be a tariff system, in which a benefactor who gave to "one or two" academies might receive such an honour while a donor who gave to five would be "a certainty" for a peerage.
Smith's comments came during an undercover investigation by The Sunday Times. Suspicions of a link between honours and donations to academies — Blair's scheme for new privately backed schools — have existed since the ambitious programme of establishing up to 200 academies began in 2001. Six of the biggest academy sponsors have already been honoured after pledging their money.
Smith is an adviser to Sir Cyril Taylor, chairman of the Specialist Schools and Academies Trust (SSAT), and says he has been a regular visitor to Downing Street. Smith is a council member of the SSAT, and Taylor personally recommended him as a potential "project director" to an undercover reporter who approached the trust posing as a would-be donor.
On Friday, Smith told a reporter posing as a donor's PR assistant that "the prime minister's office would recommend someone like (the donor) for an OBE, a CBE or a knighthood".
"Really?" replied the reporter. "Just for getting involved with the academies?"
"Just for, yes, they call them 'services to education'," replied Smith. He went on: "I would say to Cyril's office that we've now got to start writing to the prime minister's office."
Smith was even more confident about the prospect of securing an honour if the donor was willing to give as much as £10m.
"You could go to the House of Lords and get a lord . . . become a lord," he said.
"So, if you invested in five city academies over, say, a 10-year period, it would be . . ." said the reporter.
"A certainty," said Smith.
Yesterday David Willetts, the shadow education secretary, said the honours system should not be used to buy support for a policy in this way: "There is a fine line here between recognising public-spirited people who wish to support education and blatantly rewarding people for propping up one of the prime minister's pet projects."
Taylor yesterday called Smith's claims "outrageous." He said: "In no way is giving money to the academy linked to the award of an honour."
He admitted recommending people for honours in the past but not because they had given money to an academy: "I have never said to any prospective or existing sponsor that if they sponsor an academy, that I would recommend them for an honour."
Smith himself backtracked when confronted by The Sunday Times. "It is not possible (to acquire an honour by a donation)," he said.
MINISTERS BEHAVING BADLY?
Once again, MP's are making the news for all the wrong reasons. This time it's Tessa Jowell, Secretary of State for Culture, Media and Sport. Although Tony's publicly cleared her of any wrongdoing, the press are gonna milk this one for all it's worth.

Should they? Do our MP's private lives really concern us? And, to be absolutely frank, do we give a rats arse?
In Tessa Jowells case, it appears that she's been given a get out of jail free card. Despite not declaring her husbands £350,000 'gift' to parliament, despite his dubious tactics in passing it off as earnings and despite her knowledge of it for a full eighteen months, Ms Jowell has not broken the 'Ministerial Code'. Boy, she must have a good way with words.
Or, as more and more of us are starting to suspect, she's part of an elite group of people who pretend to run the country whilst feathering their own nests.
MP's, or to coin a phrase "glorified civil servants" earn a basic salary of £59,095 a year. I don't know about you, but I can live with that. They are supposed to run the country after all, and if we don't like it, we can always get off our butts and vote 'em out. But look a little closer. In 2004, Ministers claimed a staggering £80 million in expenses. That's £120,000 per MP. That's on top of a bundle of perks and pensions including, wait for it....a £20,902 second home allowance.
SECOND HOME? What about the civil servants (y'know, the less important ones - teachers, nurses, firemen) who don't even earn enough for a first home? Their taxes, and mine for that matter, are funding this lavish lifestyle.
And how do they repay us?
Well let's not be unreasonable here. In the spirit of fair play, let's just look at what they've achieved so far this year, all nine weeks of it.
George Galloway. Pretended to be a cat. Danced in a skin tight leotard. The Iraqi oil-for-food, know one quite knows what's going on scandal.

Charles Kennedy. Ousted for alcohol abuse

Kim Howell. Admits to clearing a sex offender to work with our school children

Mark Oaten. An affair with a male prostitute,
And that's just what we hear about. In the halls of Westminster, the whiffs of scandal have turned into a stomach churning stench. Current rumours pervading the corridors of power include: the cabinet minister in his underpants on a hot July evening, desperately trying to seduce a Labour official at his flat; the minister dumped by his secretary lover because he failed to send her flowers when she was in hospital; and the Conservative MP who flaunts his "pretty boy" researchers.
Should we care? Is it important? Ask the doctor working a 60 hour week, whilst his MP searches for his subsidised second home. Ask the trainee teacher, struggling to make ends meet whilst her representative makes an ass of himself on TV for yet another wad of dosh. Ask the Lorry driver, saving his money for an end of the week beer, whilst his taxes pay for champagne lunches.
Ask the normal, law abiding, trying to get by, person in the street.
Ask yourself.
Not so clear cut, is it?
Mediamoggie.
Ruth Kelly seems to think she's done enough. In the battle to save her skin, she told us that there are now NO paedophiles working in our schools. Well that's where you're wrong Ms Kelly, and you know it.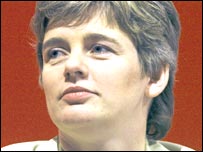 Separate figures show that there are at least 150 pervs working in our schools. All of these were convicted before 2000 and were only given partial bans. In effect, this means that if a paedo had a lust for boys, he would be allowed to work with girls and vice versa.
But surely, as our Education Secretary tells us; "Nobody who is convicted or cautioned for child sex offences should be allowed to teach in schools."


It seems that even now, despite public outrage, the government are still trying to pull the wool over our eyes. Lets show 'em we mean business. We will not have our kids used as Guinea pigs for some namby pamby 'everyone deserves a second chance' government spin.
Yes people do deserve a second chance. But these perverts are not people in any ordinary sense of the word. Their urges will not go away. Neither can our vigilance.
Join the PROTECT OUR KIDS campaign. Lets stop this abuse of our children NOW.
"Not only do the homeless not have anywhere to play badminton or tennis, they don't have anywhere to live either". Councillor Arthur Mandry, The Fareham Journal.
In Eccles, Greater Manchester, a resident complained to the council that his wheelie bin had been stolen for the second time. He says he was advised by an official to pinch one from someone else. Manchester Evening News.
A month after my mothers death at 94, a letter from the local authority addressed to "Mrs Winifred Young, deceased" said" Your Council tax benefit has now ceased , owing to the change in your circumstances". Edward Young - letters, The Times.
Government mistakes in the administration of benefits cost £1bn a year.
£3bn is wasted by the DWP either through fraud or government mistakes.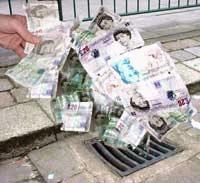 Foot and mouth. The three-day delay in banning livestock movements in the UK doubled the eventual size of the outbreak.
Tax Credits. HM Revenue and Customs forced thousands of families into poverty clawing back tax credit overpayments made through departmental mistakes. HMRC recently admitted that of £13.5bn paid out last year, £1.9bn consisted of overpayments.
Now over to you. We know there's hundreds more out there. Send 'em in!