Car Jacking is on the increase globally.
Thanks to high-tech anti theft systems on today's modern cars stealing them isn't easy so the thieves have resorted to simply taking the car from the owner while it's is use. Sometimes they use another car to cause a minor accident with the target vehicle and when the driver of the target vehicle stops to exchange particulars the car is stolen from right under his nose.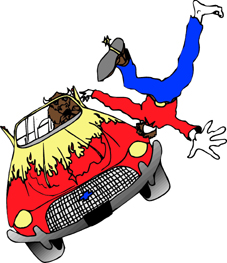 Sometimes a far more brutal and violent method is used by attacking the occupants of the target vehicle, ejecting them from the car while the car is, say, stopped at traffic lights or in heavy traffic.
One such unlucky couple driving home late one night in London were confronted by a gang of youths in the middle of the road and forced to stop. The couple were manhandled from the car, the wife was sexually abused, they were robbed then the gang made their getaway in the couple's car with hoots of laughter. Such was the trauma experienced in the incident the effect was the couple are getting divorced and their lives are ruined. Did the gang get caught, No! Did they get the car back, No! Did the insurance company pay out, No!
What would you do if confronted by the same situation?
CrimeshareTV would like to have your opinion, anonymously if you prefer and if you have experienced similar situations that have gone unpunished we'd like to hear from you or you can contact Victim Support